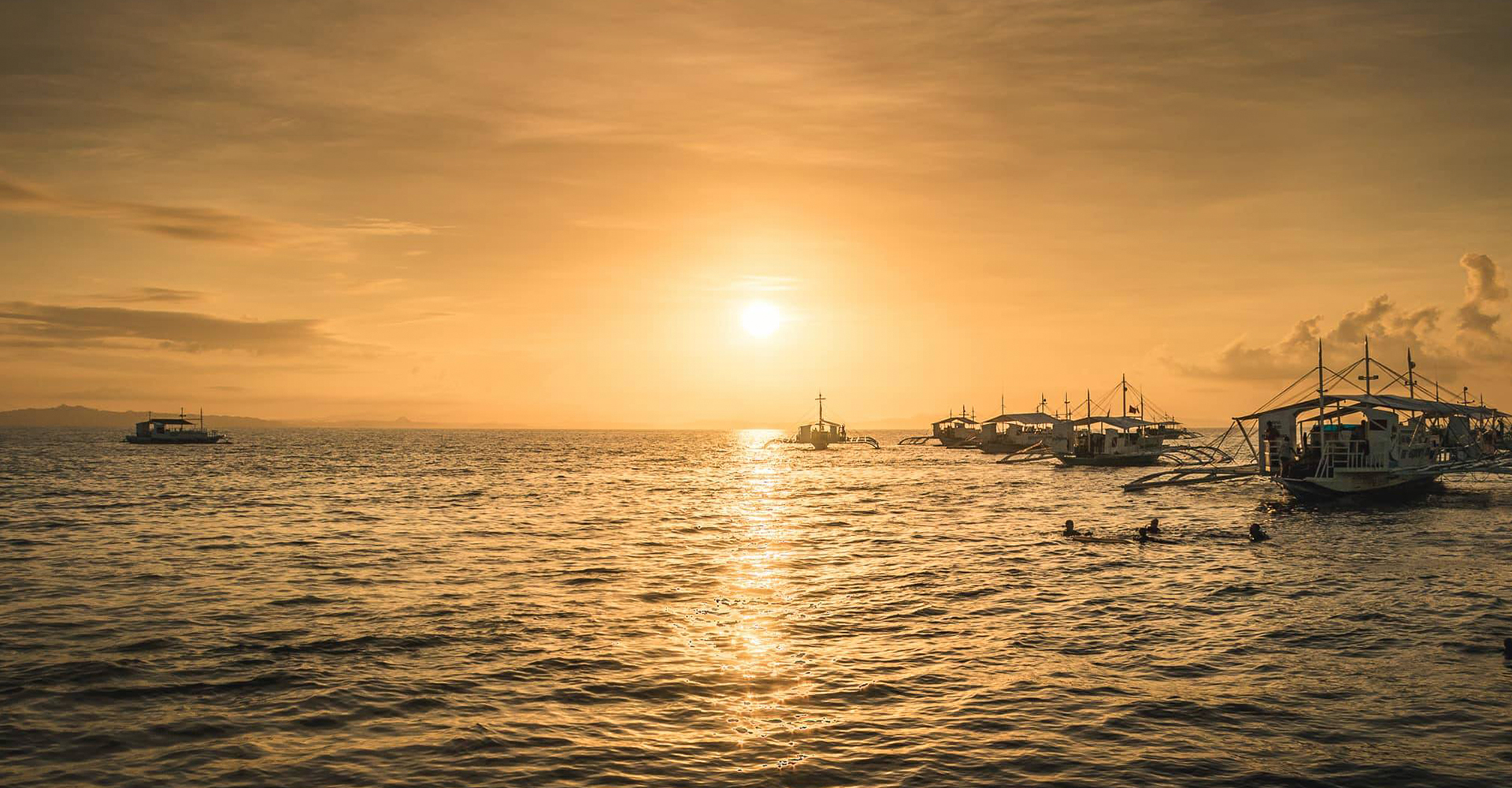 ---
Dives (Including Equipment - BC Reg. + Any Other)
| No. of Dives | Package Price | Regular Price |
| --- | --- | --- |
| 1 Dive | Php1,400 | Php1,500 |
| 2-9 Dives | Php1,300 | Php1,450 |
| 10+ Dives | Php1,200 | Php1,300 |
| 8 Dive Package + Prepaid* | Php1,100/dive | Php1,250/dive |
| No - Limit Dive (4 Boat Dives A Day including Night Dives)* | Php5,000/day (3 Days, 2 People Min.) | Php5,500/day (3 Days, 2 People Min.) |
*Payable in advance with Marine Park Fee (Non-Refundable)
---
Dives (Own Equipment)
| No. of Dives | Package Price | Regular Price |
| --- | --- | --- |
| 1 Dive | Php1,250 | Php1,385 |
| 2-9 Dives | Php1,150 | Php1,275 |
| 10+ Dives | Php1,100 | Php1,200 |
| 8 Dive Package + Prepaid* | Php1,000/dive | Php1,100/dive |
| No - Limit Dive (4 Boat Dives A Day including Night Dives)* | Php4,100/day (3 Days, 2 People Min.) | Php4,530/day (3 Days, 2 People Min.) |
*Payable in advance with Marine Park Fee (Non-Refundable)
---
Additional Fees
| Types of Fees | Package Price | Regular Price |
| --- | --- | --- |
| Marine Park Fee | Php200 | Php225 |
| Fuel Surcharge (Gato Island) | Php250 | Php275 |
| Nitrox | Php350 | Php385 |
| Night Dive | Php250 | Php275 |
---
Core Courses (with Book and Slates)
| Course | Package Price | Regular Price |
| --- | --- | --- |
| Open Water (Beginners' Course) | Php16,500 | Php18,000 |
| Advanced Open Water | Php13,000 | Php14,150 |
| EFR | Php6,500 | Php7,150 |
| Recue | Php18,000 | Php19,500 |
| Recue and EFR | Php22,000 | Php24,200 |
---
Other Courses
| Course | Package Price | Regular Price |
| --- | --- | --- |
| Nitrox (Including Books and Tables) | Php13,000 | Php14,300 |
| Discover Scuba Diving | Php3,000 | Php3,300 |
| Scuba Diver | Php13,000 | Php14,300 |
| Scuba Diver Upgrade | Php9,000 | Php9,900 |
| Scuba Diver Upgrade with Books and Tables | Php10,000 | Php11,000 |
| Adventure Diver (including Books and Slates) | Php9,000 | Php9,900 |
| Adventure Diver | Php2,600 | Php2,860 |
| Dive Master (Own Gear/Includes Books and Slates) | Php43,000 | Php47,300 |
| Dive Master (Rental Gear) | Php50,000 | Php55,500 |
Other specialties include Deep, Wreck, Photography, Videography, Navigation, Drift, Buoyancy, Night Equipment, Search and Recovery, Multi-Level and Computer, Equipment and Gas Blender
---
Equipment Rental Per Dive
| Equipment | Price Per Dive |
| --- | --- |
| BCD | Php350 |
| Regulator | Php350 |
| Wetsuit | Php300 |
| Mask and Snorkel | Php250 |
| Fins and Booties | Php250 |
| Torch/Flashlight (including Batteries) | Php250 |
| Computer (Nitrox Compatible) | Php250 / Php500 per day |
| Camera with Film | Php600 |
---
Ex - Rental Equipment For Sale
| Equipment | Price (USD) |
| --- | --- |
| BCD | $200 |
| Regulator | $300 |
| Wetsuit | $50 |
| Mask and Snorkel | $30 |
| Fins and Booties | $60 |
| Flashlight (UK / Frogman) | $25 / $50 |
| Computer (Nitrox Compatible) | Varies |
| Camera with Film | $600 |
---
New Equipment For Sale
| Equipment | Price |
| --- | --- |
| Mask-Liberator | $200 |
| Suunto Computers: | |
| Gekko | Php25,000 |
| Mosquito | Php33,270 |
| Vyper | Php31,800 |
| Stinger | Php51,000 |
| D6 | Php51,800 |
Please ask about other available equipment
---
Snorkellers
| | |
| --- | --- |
| Boat Ride (Half Day / Full Day | Php200 / Php400 |
| Calangaman | Php600 |
| Mask and Snorkel Rental | Php250 |
| Fins Rental | Php250 |
| Wetsuit | Php200 |
| Underwater Camera with Film Rental | Php600 |
| Underwater Camera | Php1,800 |
| Disposable Underwater Camera | Php500 |
Malapascua Island
Malapascua Island has something for all divers. Warm and crystal clear water will spoil your adventure and let you take home the greatest experience of your life time. The famous thresher shark, manta ray, mandarin fishes and Doña Marilyn wreck are at the top of every diver's list of things to see in Malapascua, but there is more than that. There is virtually no dive site in Malapascua where there is nothing to see. During every dive no matter how shallow or deep you should be able to see lots of marine life like shrimps, crabs, sea stars, sea urchins, nudibranchs and beautiful soft and hard corals. Malapascua Island is a perfect place to begin your diving or snorkelling adventure.
---
Dive Sites
DOÑA MARILYN WRECK (18M-32M / 60-110FT)
Doña Marilyn is the most famous wreck not far from Malapascua Island. This 100m long passenger ferry went down in 1984 during a heavy typhoon. She lies between 18m - 35m on her starboard side overgrown with beautiful soft and hard corals. There is plenty fishes including sweetlips, snappers and bat fishes swimming around. This dive site is for experience divers only. Nitrox is recommended.
---
CALANGGAMAN ISLAND (30M / 100FT)
Calanggaman Island has a great dive sites with plenty fish and beautiful soft and hard corals. Lots of macro life including some of the rare nudibranchs. Calanggaman is not just about scuba diving. This island is a great place for relaxing on the beautiful sandy beach, having picnic and enjoying the nature of a remote paradise. Great for snorkelling. This dive site is for beginners and experience divers.
---
GATO ISLAND (24M / 80FT)
A little rocky island between Malapascua and the north point of Cebu mainland. Along its gently sloping sides you can find coral heads and beautiful soft corals. There are many small reef fish and occasionally eagle rays (max depth 54ft/18m).
---
KIMUD SHOAL (40M / 130FT)
There are many stories about hammerhead sharks in the Philippines. Kimud Shoal is one of those places where there is actually a chance to see these magnificent creatures. Of course there is no guarantee because of its short seasonal period from January to March and the depth, mostly between 30m - 40m. Nevertheless it is worth to try. This dive site is strictly for experience divers.
---
MONAD SHOAL (24M / 80FT)
Every diver knows that Malapascua Island is famous for its thresher sharks and Monad Shoal is the dive site where you can see these beautiful creatures swimming in their whole glory. There is also a good chance to see manta ray, mostly during afternoon dives. This dive site is for experience divers only. Nitrox is recommended.
---
CHOCOLATE ISLAND (16M / 50FT)
Chocolate Island is a beautiful shallow dive site with plenty of nice corals and macro life. Harlequin shrimps, sea snake, cowries, seamoth, and nudibranchs are no strangers to this dive site. Located between Malapascua and Maya it is also popular destination for snorkelling trips. This dive site is good for all levels including discover scuba diving programs.
---
LAPUS LAPUS (22M / 30FT)
Lapus Lapus is a top dive site in Malapascua. Great macro life and beautiful corals. During the dive you should be able to see pygmy sea horses, frog fish, ghost pipe fish, porcelain crabs, nudibranchs and other macro life among soft and hard corals. Watch out for the big octopus. This dive site is good for beginners and advanced divers.
---
LIGHTHOUSE (10M / 30FT)
During a sunset dive in Lighthouse you can see the beautiful mandarin fishes doing their mating dance. They are very shy creatures so you have to be patient but it is rewarding when mandarins finally start their rituals. As the dive progresses and turns in to a night dive all the little shrimps, crabs and moray eels are coming out. Don't be surprised if blue-ringed octopus or cuttlefish are among the things you see during your night dive.
---